Ok so here is the first piece of analysis on Australian temperatures that I have done. There is plenty more to come, but this I am sure will spark a reasonable about of debate: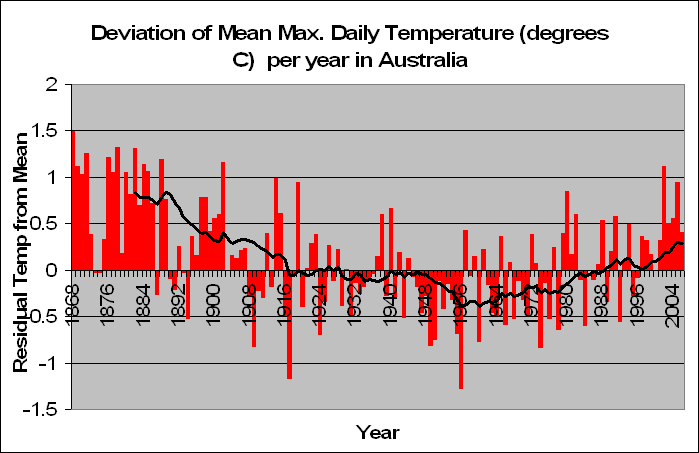 Given on the left is Australia's Deviation form the mean of Average Monthly Maximum Temperatures. The pattern in it is startling and obvious. Since 1868 we have had a decreasing maximum temperature in Australia. This trend continued to decrease until about 1960, and from then until about the year 2000 the temperature remained relatively constant. It is quite clear from this graph why scientists in the 60s and 70s were
warning
of the earth possibly going into another ice age. If temperatures kept decreasing then who knows what might happen.
Fortunately it didn't, and the next 30 years so an evening out process where maximum temperatures were scattered around the mean. What is certain, is that the past 5 years have seen a higher maximum temperature than normal, around 0.7 degrees higher. But this is of course only 5 years. The heatwaves of 1875 to 1886 recorded 0.9 degrees above normal over 12 years. 8 years of heat from 1895 to 1907 produced 0.6 degrees above normal on average. Just after the second world war we had 12 years in a row of lower than average maximum temperatures.
Such departures from the mean are in fact normal and occur largely due to random variation. If the increase in temperatures in the past 5 years is due to human CO2 activity, then how were the temperatures pre 1900 just as hot if not hotter? The cyclic nature of this graph seems to be obvious, although it must be noted that there is not enough data to prove that statistically.
It is quite true, that from around 1950 temperatures have been increasing. So much so, that if one only had the data in the last 60 years there would be ample evidence that we are in a hotting up Australia. But with more data, comes more evidence.
What is interesting is the graphs that the ABM
give
. They for starters don't show a decreasing temperature trend from 1910 to 1960. There is a lot of scientific evidence out there that the decrease in temperature was pretty global and there were a lot of fears that we were entering a stage of global cooling. Why doesn't the ABM graph show this? Mine does!
There are two reasons why I can guess that the ABM have only data from 1910, when their records go as far back as the mid 1800s. The first is obvious. I've proven that the mean maximum temperatures at this time were even hotter than today. Why would the ABM want to show this? This would prove that humans are not the cause of global warming and it is just a normal natural variation. The other reason might be that they conclude that the earlier data was not very reliable.
My analysis suggest that as well, that the years from 1858 to 1868 is very unreliable data, but from then on, it is very comparable with today's (more on that later). So given it's reliability I have to go back to my original claim that the ABM don't want to show the world that Australia was once hotter than it is today.
My opinions and analysis is totally unbiased. So much so that I will in fact give evidence for a warming up Australia tomorrow when we look at average minimum temperatures. But one thing is for sure form this analysis, that humans are not the cause of increased average maximum temperatures in Australia. Period.