Let's do a little test today. Ok below we have 2 graphs. One of them has been derived by random numbers and is purely random, the other is not. Can you guess which graph is purely random, the first graph or the second?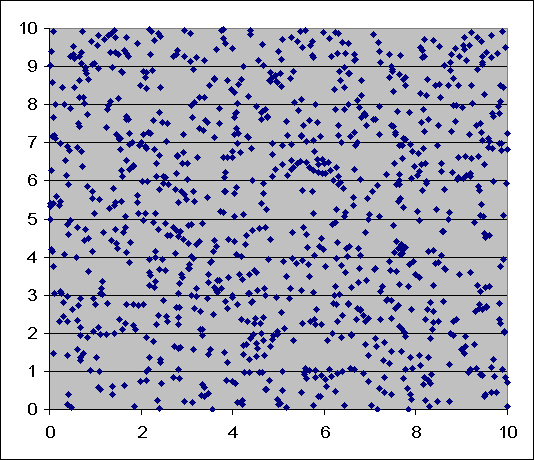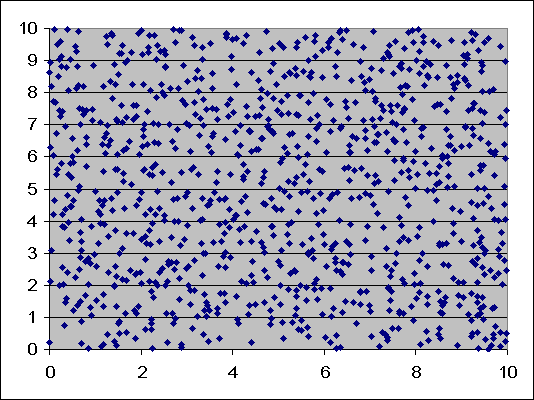 Basically this outlines one of the key notions in statistical analysis. It is very easy, especially for an untrained eye to find patterns in randomness. When we look at the first graph we see patterns, we see little stretches of cluttered dots, some areas where no dots actually appear. If we look hard enough, we can come to some conclusions about what is happening in this graph. If we look at the second graph, we see not a lot of clusters. The dots are very evenly spread and not many big gaps.
An untrained eye would immediately say that the second graph is random, when in fact the opposite is true. The first graph is random. It is very easy to find patterns in randomness. It occurs today in global warming. When we have one of the hottest days on record, or when we have severe storms. We might look at the last couple of years and say that there's been a drought, or temperatures have increased, there isn't much rainfall.
But statisticians prove whether this is due to outside causes, or whether this is purely random variation. The only way to do this, is to analyse the data and use statistical tests. This is the only way to prove why we are having changes that we are having now.
Sure we are going to get some hot days, some cold days, some blizzard snow days and some stinking hot days. But is this change in the weather due to global warming? The only way to find out, is not to hypothesise and simply say "it must be, I can't remember such strange weather" as so many people seem to be doing, but rather analyse the data, see if this strange weather is any different from the norm or if it is purely just random variation.
Only a statistician can prove whether the weather is statistically significantly different now or whether it's just natural variation. So when an article or scientists tells you that temperatures have significantly increased, or that cycles are more common now that previous, or that temperatures are so cold and warm and everywhere now, ask for a p value. If they don't have one, or don't know what you are talking about, then they simply have either not done the research to back up their claims or they, like it seems every other untrained number cruncher, are simply finding patterns in randomness.