Lets time warp ourselves back to 1966. Australian Politician Robert Menzies resigns, the Soviet Luna 9 spacecraft makes the first controlled rocket-assisted landing on the moon,

Australia

gets their own dollar, the Vietnam war is going full tilt and amongst other things, John Lennon declares the Beatles more popular than Jesus.

But what is happening with Australian rainfall? Lets take a look. Show below is a graph that outlines Australia's rainfall for south-east Australia.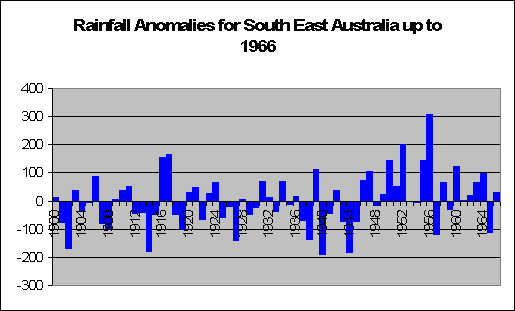 As you can see we've had some steady growths in rainfall, especially between the end of the second world war and now. In fact, since then we've only had 2 years where we had 50mm less than normal rainfall and 10 years where we had at least 50mm more rainfall than normal. It seems to me that rain is increasing in the south east Australia, and our statistical analysis proves this to be correct (t = 2.03, p = 0.047). Rainfall in south eastern Australia is increasing at the rate of 1.2 mm more per year. This means by the time we hit 2006, we will have on average 683mm per year in south eastern Australia or nearly 100mm extra per year than now. Whilst this will mean that our plants and gardens will be nice and green and our water supplies will no doubt be overflowing, there is the massive problem that we face of increased floods and increased mosquito's that spread disease.

As for northern Australia:

The graph below shows what is happening in northern Australia with regards to rainfall. As you can see the last 10 years have been disastrous for rainfall, and the farmers are bleeding because of it. In fact since 1910, northern Australia has had a decrease of 0.71mm per year of rainfall. This isn't significant (t = 1.06, p = 0.29), but unless we don't ACT NOW then by the year 2006 we will only average 443mm per year or 50mm less than current. In fact by the year 2500 we will only receive on average 90mm per year. How are our children's children going to deal with that?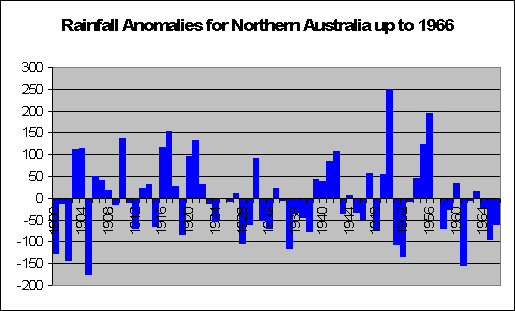 One solution is for all the farmers in the north to come down to the south and enjoy the plentiful rainfall. There will never be any water shortages in southern Australia because the rainfall there is increasing every year. We could also look at making pumps to pump the water up to northern Australia so that the farmers will be ok and all the crocs won't die. But unless we don't act now, this could be a major problem for the next generation.

I dunno, maybe I'm just finding patterns in randomness or extrapolating a little too far, but the fact is is that the graphs show that Australia's climate is changing