The
Sydney morning Herald
have told us all what will happen to Sydney's shore line by the year 2100 based on global warming quoting that
billions of dollars worth of seaside properties up and down the coast are vulnerable to advancing shorelines and increased storm activity associated with climate change.
And the evidence:
Their modelling uses a range of sea level rises projected by the United Nations and the World Meteorological Organisation's International Panel on Climate Change of between nine and 88 centimetres by 2100.
But new scientific
research
has us increasing at 0.35mm a year or by the year 2100, just 3.2cm. Big difference.
But what is most funny, is the pictures that it produces with the first picture now, and the second picture what it will look like in the year 2100: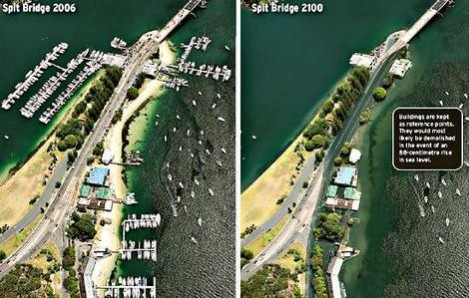 What happened to all the boats? Don't boats float on top of the water?
(thanks Tim Blair for this one)